Weekend Travel: 4 Things to do in Toronto on a budget
Discover the home of the CN Tower, the Toronto Raptors and some well-known Toronto attractions 
Saturday 
Morning: Kensington Market/Distillery District  
These are 2 great spots to kickstart your Toronto trip!

Kensington Market is a walkable bohemian neighbourhood that draws artists and tourists to its indie shops, vintage boutiques, and art spaces. The market is also home to a wide array of specialty grocers, bakeries, and cheese shops. It is one of the most photographed places in Toronto due to all the colour and artwork.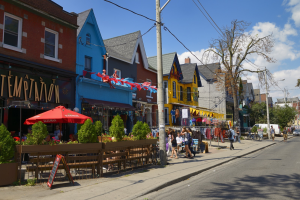 You can shop around at some vintage stores, go on a food tour, visit the park, and so much more. It is a breathtaking location and there are always great vibes around it – it is an ideal place to start your weekend and is truly one of the most popular Toronto attractions.
The Distillery District draws crowds to its cobblestone streets lined with hip indie restaurants, bars, and boutiques. There are lots of galleries, outdoor sculptures, dance, music, and stage performances to enjoy. If you happen to visit Toronto around December – they host the annual and well-known Christmas Market that draws thousands of visitors each year! Some nice activities include: visiting artistry studios/museums or doing some shopping – they have things that you will not find anywhere else!
Afternoon/Evening: Medieval Times Dinner and Tournament 
Take the afternoon to discover the Hall of Arms that displays many different medieval artifacts and visit the Museum of Torture to learn all about the forgotten period of the Medieval times! To fill the evening, there is a live two-hour show with a delicious four-course meal served medieval-style – without silverware. It's one of the most unique things to do in Toronto. Guests cheer for six brave Knights as they compete in games of skill, authentic jousting matches, and swordfights in an attempt to win the tournament. It is a great experience for all and you will create amazing memories. With ISIC, you can save 30% off adult tickets – which is an amazing discount to take advantage of!
Sunday
Since you are indulging in a truly Canadian experience throughout this weekend – start your day off right with some Tim Hortons for breakfast (I 100% suggest an Iced Capp (ask them to make it with chocolate milk) and an everything bagel double toasted with plain cream cheese, but if you want to keep it simple a sour cream glazed donut is just as good!).
Morning: Ripley's Aquarium of Canada

You can easily spend the whole morning at Ripley's since there is so much to see and discover! Immerse yourself in a world of 16,000 aquatic animals and discover an underwater adventure. Ripley's Aquarium of Canada features nine curated galleries showcasing a cross-section of saltwater and freshwater environments from around the world. Ripley's Aquarium of Canada showcases the beauty and significance of our aquatic world and the animals within it. 
 The Aquarium also features North American's longest underwater viewing tunnel, more than 5.7 million litres of water, and over 100 interactive opportunities, including four touch exhibits featuring horseshoe crabs, sharks, rays, and our daily dive shows. The Ripley's Aquarium of Canada is among the many popular Toronto attractions! Luckily for ISIC cardholders like you, when purchasing your tickets on-site, you get 15% off adult general admission!
Afternoon: CN Tower

Now is your opportunity to explore one of the most famous Toronto attractions! 
Start your afternoon with a trip to 360 The Restaurant at the CN Tower, although it is a little more on the expensive side, you have the opportunity to see views of Toronto that you cannot see anywhere else. The restaurant moves in slow circles throughout the entirety of your meal, so you can see every possible view that there is. After lunch, take the rest of the afternoon to explore the rest of the CN Tower, like the glass floor, museum, and more – with your ISIC you get 10% off general admission!

_________
Getting to Toronto 
How are you going to get to and from Toronto? If you are trying to stick to a budget, it might be hard to justify driving and parking costs. Everything in downtown Toronto is relatively close together and it is honestly quicker to just walk from place to place. 
 With ISIC, you can travel to Toronto easily by booking a nice train ride with VIA Rail (you can get Discounted Youth Rates) or by booking a bus ride with Greyhound (you get 10% off your bus fare with your ISIC card).
Where to stay 
Now, where are you going to stay for the weekend? There are so many options available but if you are trying to stay within a certain budget it may be harder to find something. Check out Choice Hotels, where you can get up to 15% off accommodations and they have several options right in the heart of downtown!
 If you want to try out a more unique Bed and Breakfast or stay in a condo or apartment, you can also look at hotels.com, where you can get 6-10% off on your online booking.
Great places to eat
Although many of the places on this itinerary offer food or it is just part of the experience, you might want to eat more regularly or want to discover some of Toronto's favourite/best restaurants outside these locations. 
Here are some of my personal favourites:
Old Spaghetti Factory
 This place is among the best restaurants in Toronto ever! Every time I go to a Blue Jays game or I have some extra time when I am in town, you will find me here. All the food is good and you can indulge in 4 courses  – bread (I eat so much that it is its own course), soup/salad – minestrone is amazing even when it's warm outside), the main dish (to be honest, the simpler the better!), dessert – get spumoni ice cream, it shouldn't even be a question! They also have appetizers but trust me, I can barely ever eat half of my main dish (That concludes my long praise haha 😂) 
Wayne Gretzky's Toronto
Great casual restaurant in the heart of downtown, they have options for everyone (vegan, vegetarian, gluten-free, etc), show all sports games, and have a cool rooftop patio! Wayne Gretzky's is a place known for people to visit before or after concerts and games  – so if you can fit one in this jam-packed weekend, be sure to check this place out! 

Richmond Station 
If you are looking to get away from the hustle and bustle of the busy city, this is a great, intimate, neighbourhood-feel kind of restaurant near Nathan Phillips Square. The owners work hard to make the restaurant feel like home and welcoming to all of its customers. And a plus is that Richmond Station is owned by a Top Chef Canada Winner!

Extend your trip with CityPass 
CityPASS provides special and unique vacation experiences by offering the very best North American attractions at an exceptional value. CityPASS saves travellers up to 50% on admission and is available in 12 North American cities. Check out their offer where you get the chance to visit the CN Tower, Ripley's Aquarium of Canada, Casa Loma, the Royal Ontario Museum, the Toronto Zoo, and the Ontario Science Centre. So, if you want to do even more in Toronto or you want to extend the adventure and not cram it in all at once, CityPASS passes are valid for 30 consecutive days after their first use. 
____________
What is ISIC? 
The International Student Identity Card (ISIC) is for both domestic and international full-time students and is your passport to access student discounts in Canada and around the world. An ISIC card is the only internationally-recognised student ID, making cardholders members of a truly global club. Every year more than 4.5 million students from 130 countries use their ISIC to take advantage of offers on travel, shopping, museums and more, worldwide. Check out our website https://isiccanada.ca/ for more information.
Disclaimer: Please keep in mind that our discounts have expiration dates, some discounts might not be applicable when you read this blog post – again please visit our website for a list of the current discounts we provide!