The key to academic success starts with a good night's sleep
It's no secret that to do well as a student, you need to have lots of energy in order to tackle the numerous work you have to do. While caffeine helps you temporarily to stay alert to get more studying done, getting enough sleep every day is the ultimate way to ensure you're a successful student. When you don't get enough sleep each day, this can lead to sleep deprivation which is a common problem among post-secondary students. So how do you make sure you get enough sleep each day? Here are 5 tips!
 Don't hit the snooze button
Hitting the snooze button at the beginning sounds like a good idea when you wake up not getting enough sleep, who doesn't want an extra 10 minutes of sleep? However, the problem begins when it becomes an everyday occurrence. While you might think that you're getting more sleep by hitting the snooze button, the truth is that you're setting yourself up for disappointment by only getting a limited amount of sleep and causing yourself to experience sleep inertia — where we feel disoriented and groggy after hitting the snooze button a couple of times.
2.  Sleep at the same time every day
Sleeping at the same time every day is essential for a good sleep and even more so as a student. Why? Because you know what time you how much sleep you'll be getting each night. While it might be hard to nail down an exact time to sleep and wake up in the beginning, once you start sleeping and waking up at the same time, you'll be getting better sleep.
According to the  American Academy of Sleep Science, students who sleep six hours or less a night, "'… feel as bad and perform as someone who has gone without sleep for 48 hours.'" The recommended sleep amount for students is 7-8 hours a night.
3. Have a good mattress to sleep on!
Having a good mattress, pillows and blankets is essential to a goodnight's sleep. There's a reason why you always see people trying out mattresses in TV shows and movies because no mattresses are the same because everyone is looking for something different in a mattress. Some people want their bed extra soft and some people want their mattresses firm.
Luckily, with your ISIC card, you can get 10% off all orders at Casper Canada! Casper is a sleep company that believes that everyone should sleep better. They have created a range of engineered sleep products including mattresses, pillows, bedding, and furniture. Whatever you're looking for in a mattress, Casper has something for you!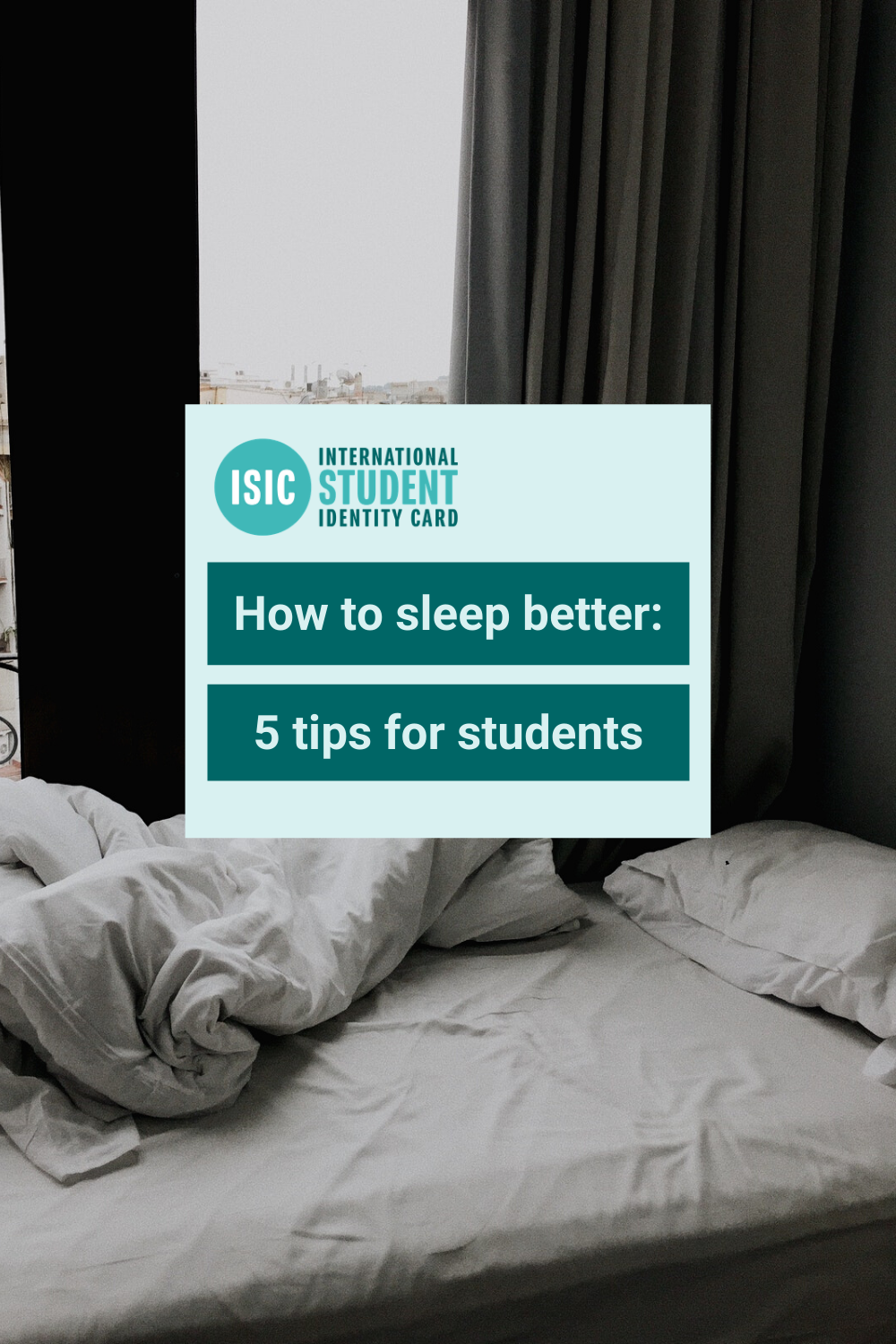 4. Create a nighttime routine
Just like a morning routine, a nighttime routine can help you sleep better, especially if you're someone like me who can't fall asleep right away. So how do you create a nighttime routine? First, pick an hour to start your routine. I like to start my routine about two-three hours before the time I want to be sleeping, for me I would start my routine at 8 pm and I want to be sleeping by 11 pm or at least be in my bed by then.
What do I do in my nighttime routine? I stop using my laptop for the night, I turn on the feature "Night Shift" on my iPhone (this feature automatically makes the colours of your display warmer to help you get better sleep), I brush my teeth, read for 30 minutes and get my clothes ready for tomorrow. Whatever helps you wind down and get ready to sleep add that to your nighttime routine. Again, it might take time to find the best nighttime routine but once you figure out what your nighttime routine looks like, you'll be following it in no time and getting better sleep.
5. Make your bedroom cozy
Having a cozy bedroom helps in getting a goodnight's sleep because once you head to your bedroom, you'll instantly feel relaxed and comfortable. While making your bedroom cozy and may take some time to do depending on how you like to decorate your bedroom, I recommend that you have an actual alarm clock that's not your phone and nice lamp for some late-night reading if you like reading before bed!
Getting enough sleep every day is essential as a student, especially if you're a student with other commitments like a part-time or full-time job and have other responsibilities. You need the energy to accomplish all those things that you're doing and this starts with good sleep each night.
—
Don't forget! With your ISIC card, you get 10% off all orders at Casper Canada. Whether you're looking for a comfortable mattress, pillows, or bedding, Casper has something for you to make sure you get enough sleep to tackle each day.
What is ISIC?
The International Student Identity Card (ISIC) is for both domestic and international full-time students and is your passport to access student discounts in Canada and around the world. An ISIC card is the only internationally-recognized student ID, making cardholders members of a truly global club. Every year more than 4.5 million students from 130 countries use their ISIC to take advantage of offers on travel, shopping, museums and more, worldwide. Check out our website https://isiccanada.ca/ for more information.
Your content goes here. Edit or remove this text inline or in the module Content settings. You can also style every aspect of this content in the module Design settings and even apply custom CSS to this text in the module Advanced settings.