Five ways to make time for exercise
As busy students, it can often be easy to neglect our physical health and put it on the sideline to focus on school and our other responsibilities. However, even as a busy student, making time for exercise is incredibly important since one of the many benefits of regular exercise includes improving our ability to do daily activities such as studying. So how do you make time for exercise in your busy life as a student? Here are five ways!
1.  Schedule your workouts like your classes 
When you schedule your workout ahead of time, it will likely be harder to skip it, and this is especially true once you have a workout routine in place. You should aim to work out on the same days and at the same times for consistency. 
Scheduling your workouts reminds you to be physically active, but it also reminds you to take a break from studying and sitting down all-day long. Schedule your workouts in either your planner, Google calendar or whatever you use to plan your day.
2. Kickstart your exercise habit with a workout challenge and then build your workout routine from there
 One of the biggest ways people start their journey to being more active is by starting a workout challenge that they see on the internet, on a YouTube video or on a social media post. This workout challenge may be a daily, weekly or monthly challenge. For example, one of the popular workout challenges of 2020 was Chloe Ting's "2 Weeks Shred Challenge."
While there is nothing wrong with starting your exercise habit with a workout challenge, the problem comes after you complete the challenge. Once you finish the challenge, it's easy to stop working out altogether. To keep up your new exercise habit, you need to create a workout routine. 
To create a workout routine, you need to figure out three things:
– how many times a week you want to work out,
– for how long,
– and on which days. 
The key to creating an effective workout routine starts by starting small and then adding more workouts into your routine over time. If your goal is to work out four times a week, you can start by working out two times a week for the first two weeks. Then in the next two weeks, you can add another workout and work out three times a week and so on.
If you're looking for new workout clothes to help with your new workout routine, check out the exclusive offer you get with your ISIC card from Fabletics. When you sign up for a VIP Membership and get 2 pairs of leggings for only $24!
3. Figure out your "why" or "whys" 
Taking a lesson from Simon Sinek's book "Start with Why", take some time to figure out exactly why you want to fit more exercise into your life. In most cases, you'll discover one the main reason you want to work out or realize you have more than one reason (which is normal).
Whatever you discover is your "why" or "whys", write them down on a sticky note and place it somewhere you'll see it every day. Writing down your "why" or "whys" helps you understand your reasons for wanting to be more active and serves as a reminder on days you don't want to work out.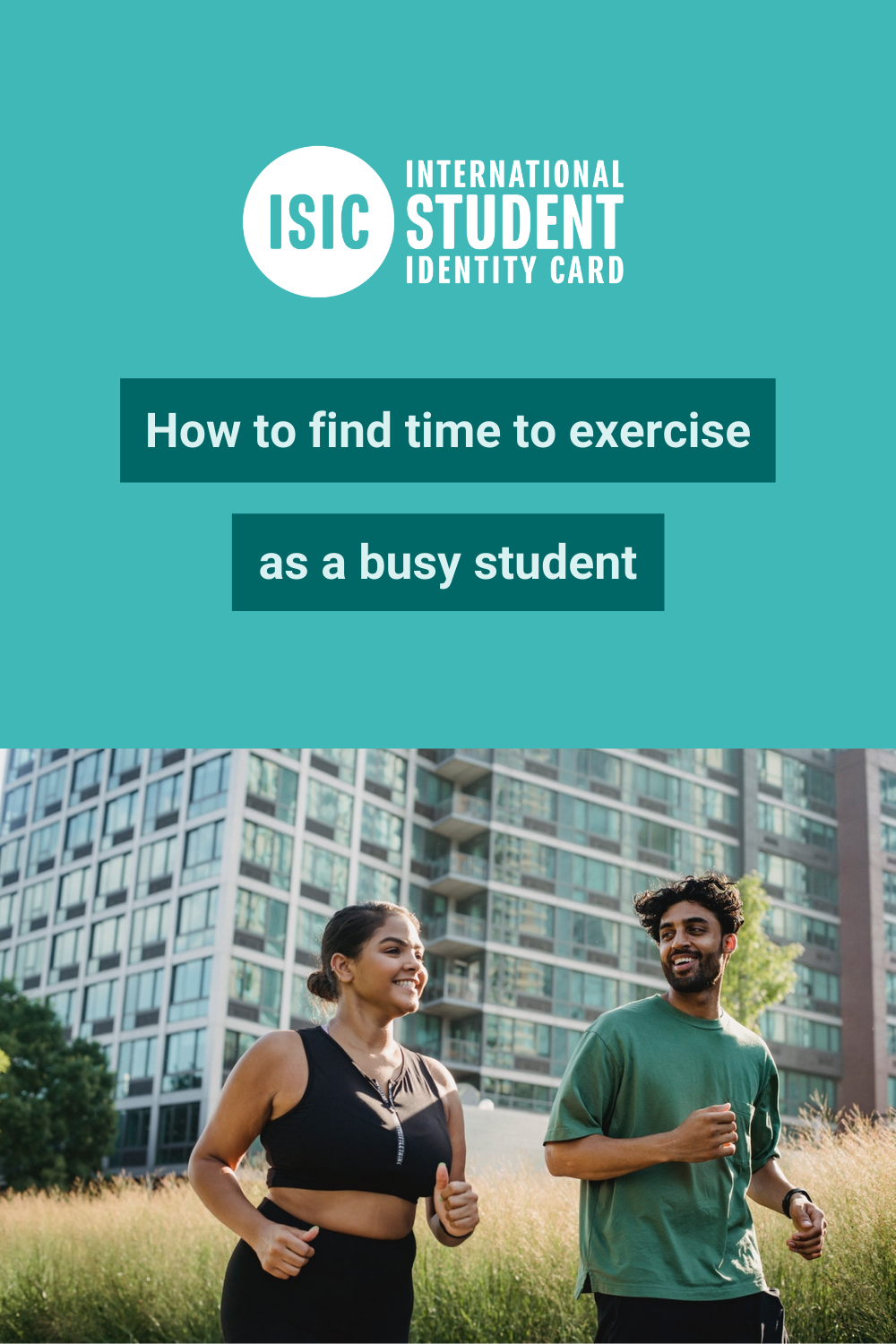 4. Sneak in a quick walk or take the stairs 
This is one of the easiest ways to incorporate more exercise into your daily routine on top of your workouts. Try to find more ways to be active in your day-to-day life, this can include taking the stairs instead of the elevator or going for a 15-minute walk during lunchtime or even taking the long route to your next class.
5. Forgive yourself for skipping a workout or for taking a break
 There will be times when you miss a workout or take a break from working out and when that happens, remember to forgive yourself. What matters is that you forgive yourself and go back to working out again when you can.
Making time for exercise in your life as a busy student is important. Exercise helps us live an overall better and healthier life and helps us accomplish all the things we want to do as students. 
—
Don't forget! With your ISIC card, you can get an exclusive offer from Fabletics when you sign up for a VIP Membership and get 2 pairs of leggings for only $24! Get this offer here! Whether you're looking for a comfortable mattress, pillows, or bedding, Casper has something for you to make sure you get enough sleep to tackle each day.
What is ISIC?
The International Student Identity Card (ISIC) is for both domestic and international full-time students and is your passport to access student discounts in Canada and around the world. An ISIC card is the only internationally-recognized student ID, making cardholders members of a truly global club. Every year more than 4.5 million students from 130 countries use their ISIC to take advantage of offers on travel, shopping, museums and more, worldwide. Check out our website 
https://isiccanada.ca/
 for more information.
Your content goes here. Edit or remove this text inline or in the module Content settings. You can also style every aspect of this content in the module Design settings and even apply custom CSS to this text in the module Advanced settings.