Fun Myprotein Dinner Recipes
Are you bored of eating the same old dinners over and over again? Change it up with these seven unique and delicious dinner recipes to fill every night this week! As an ISIC discount cardholder, you can get 40% off online purchases with Myprotein!
Sunday: Mozzarella-Stuffed Burgers
Ingredients

Olive Oil

1 Onion (chopped)

2 Garlic Cloves (minced)

500g Lean Beef Mince

2 tsp. Mustard Powder

½ tsp. Cayenne Pepper Powder

1 Egg

50g Breadcrumbs

Salt to taste

1 ball Low-Fat Mozzarella (quartered)

Buns 

Lettuce Slices

Tomato Slices

Barbeque Sauce 

Instructions

Preheat your oven to 200°C.

Heat a little olive oil in a frying pan and then add the onion and garlic. Stir for a few minutes until softened and browned, then remove from the heat and add to a large bowl.

Add the mince, mustard powder, cayenne pepper, egg, breadcrumbs, and a pinch of salt. Use a potato masher to mash the ingredients together so that you have a well-combined burger.

Use your hands to section out around a quarter of the burger mixture and shape it into a flat patty. Place a quarter of the mozzarella on top of the patty in the middle and use your hands to shape the meat around the cheese so that it's completely covered and in the centre.

Heat some olive oil in a frying pan and place the burgers into the pan to fry them on either side for a couple of minutes until just browned. Place them on a baking tray and cook for 20 minutes.
Monday: Baked Sweet Potato & Feta Tacos
Ingredients 

400g sweet potatoes (peeled and chopped into cubes)

1 tbsp coconut oil

1 tsp cumin

1 tsp smoked paprika 

½ tsp chili powder 

10 cherry tomatoes (chopped)

½ red onions (chopped)

1 chili (deseeded and chopped)

2 tbsp coriander (chopped)

200ml low-fat sour cream 

½ tsp garlic powder

¼ tsp chili powder

1 juiced lime

Instructions

Preheat your oven to 400°F.

Add the sweet potato cubes to a large baking dish and coat with coconut oil, cumin, paprika, chili powder, and season well.

Bake sweet potatoes for 25 minutes, until soft.

Mix all the salsa ingredients and chili-lime soured cream ingredients in separate bowls and set aside.

Once the sweet potatoes are baked, remove from the oven.

Prepare taco shells on a baking tray, add a layer of sweet potato and then sprinkle with feta. Bake for 5 minutes until feta is soft.

Remove from the oven, add salsa, lettuce, avocado, sour cream mix

Garnish
Tuesday: BBQ Chicken Pizza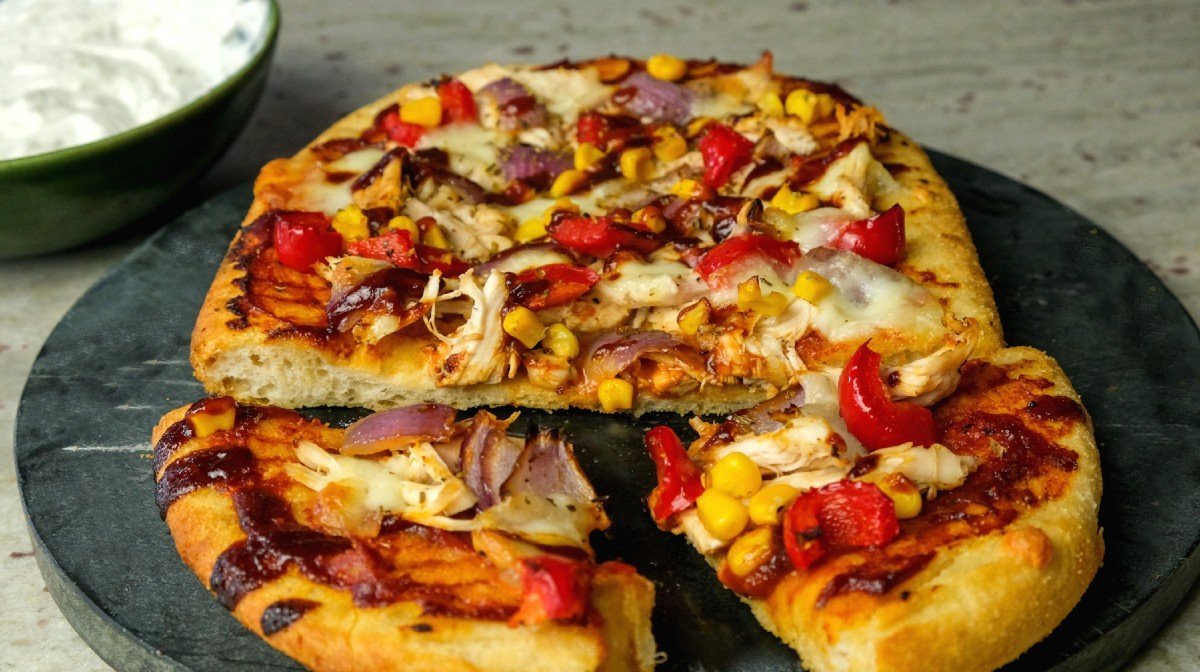 Ingredients 

1 chicken breast

1 tsp. Extra virgin olive oil 

Salt & pepper

½ red pepper (chopped)

½ red onion (chopped)

2 tbsp sugar-free BBQ sauce 

1 tbsp tomato sauce 

1 flatbread 

50g mozzarella 

15g sweetcorn 

1 tsp oregano 

150g Greek yogurt 

1 tbsp oregano 

1 garlic clove (minced)

½ juiced lemon 

Instructions

Preheat your oven to 400°F

Coat the chicken breast in olive oil, season with salt and pepper, and then bake for 15 minutes.

Add red onion and red pepper to the same baking dish and bake for a further 10 minutes.

Mix the BBQ Sugar-Free Sauce, tomato sauce, salt, and pepper.

Once your chicken is out the oven, shred using two forks.

Build your pizza

Bake the flatbread for 10 minutes.

Meanwhile, combine Greek yogurt, oregano, salt, pepper, garlic, and lemon in a small bowl to make your garlic & herb dip.
Wednesday: Loaf Tin Lasagne
Ingredients 

1 tsp. Coconut oil

1 white onion, coarsely chopped (or 1 tbsp. onion powder)

2 cloves garlic, finely chopped (or 1 tsp. garlic powder)

1 tbsp. dried oregano

350g turkey mince

600g chopped tomatoes or tomato passata

300g lasagne sheets

1 courgette

1 tsp. sea salt and black pepper

400g cottage cheese

3 egg whites

100g low-fat cheese (grated)

Foil

Instructions

 Add the coconut oil to a pan on a medium to high heat. Add the onion and sauté for 3-4 minutes, then add the garlic and sauté for a further 2 minutes

Add the turkey mince and break it up a little using a spatula, then allow it to brown for 3-4 minutes, stirring occasionally. Stir in the oregano, ½ tsp. salt and pepper and the tomatoes and simmer on a low heat for 10 minutes.

Whisk cottage cheese and egg whites together in a bowl with the remaining salt and pepper. Set aside. Preheat the oven at 200°C. 

Prepare courgette and lasagne sheets. Use a vegetable peeler to slice the courgette lengthways to get long slices. Wash the lasagne sheets under cold water in a colander.

Start with a layer of courgette sheets for easy removal once cooked. Then alternate between the ragu, cheese sauce, lasagne sheets, and courgette. Finish with a layer of lasagne, then cheese sauce, then sprinkle with low-fat cheese.

Bake for 15 minutes with foil on, then remove the foil and bake for a further 20 minutes. 
Ingredients 

3 tbsp. 100% Coconut Oil

3 garlic cloves & cube of

ginger (chopped)

1 chili (finely chopped)

3 spring onions (roughly chopped)

1 litre beef stock (use two stock cubes)

250ml boiling water

3 tbsp. soy sauce &

1 tbsp. fish sauce

1 tsp. five-spice & c

oriander 

4 pak choi leaves

2 packs instant ramen noodles

1 8oz sirloin steak

3 eggs (1 per serving)

Chopped Spring Onion

Instructions

Heat 2 tablespoons of coconut oil in a large saucepan and sauté the garlic and ginger for 2 minutes.

Add the chili and spring onion and fry for another 3-4 minutes.

Add the beef stock, soy sauce, fish sauce, five spices, and 250ml of boiling water.

Bring to the boil and then leave to simmer.

Heat a teaspoon of coconut oil in a pan and sear your sirloin steak for 3 minutes per side.

Remove from heat and leave to rest for 5 minutes before slicing.

Bring a saucepan of water to boil and add your eggs. Cook the egg for 5-6 minutes before removing and transferring to a bowl of ice-cold water.

Once eggs are cooled – remove the shell 

Add the pak choi and some ginger slices into the broth and leave to simmer for 2 minutes.

Add instant noodles and leave them to soak for 2-3 minutes.

Serve and enjoy!
Ingredients 

100g vermicelli noodles

10g fresh coriander (finely chopped)

10g fresh mint (finely chopped)

1 tbsp. light soy sauce

8 sheets round rice paper

Water

12 cooked prawns (optional)

1 carrot (peeled & julienned)

½ cucumber (julienned)

1 yellow and 1 red pepper (julienned)

¼ red cabbage (julienned)

A handful of lettuce leaves

125g All-Natural Peanut Butter

1-piece fresh ginger (peeled & minced)

2 tbsp. lime juice

2 garlic cloves (minced)

1 tbsp. sweet soy sauce

1 tbsp. sesame oil

4 tbsp. hoisin sauce

1 red chili (finely chopped)

Instructions

Prepare noodles by adding them to a large bowl and mixing through the chopped coriander, mint, and light sauce soy sauce. Set aside.

Place a sheet of rice paper into the water and allow to soak for 30 seconds.

Remove the paper gently, being careful not to tear it, then place it on top of a damp, clean tea towel.

Assemble fillings in a line across the rice paper, slightly below the centre. Make sure to leave about a 2cm gap at either end of the fillings to give yourself enough room to fold the paper over. Start with the strips of veg, then a few lettuce leaves, and finally the noodles.

Fold over the paper so that the ends of the filling are covered up first, then fold from the bottom to wrap over the filling.

In a small bowl, add the peanut butter (if you have a nut allergy, try switching this for tahini), ginger, garlic, lime juice, soy sauce, hoisin sauce, sesame oil, and chili and mix thoroughly with a fork. 

Serve and enjoy!
Ingredients 

400g canned chickpeas (drained)

3 stems spring onion

½ white onion

3 cloves garlic

Handful coriander (leaves and stems)

30g Instant Oats or plain flour

1/2 tsp. salt

1 tsp. cumin

1 tsp. Coconut Oil

3 whole-wheat pita bread

½ red onion (sliced into rings)

½ iceberg lettuce (shredded)

¼ red cabbage (shredded)

Sweet chili sauce

Plain dairy-free yogurt

Instructions

Add chickpeas, spring onion, white onion, garlic, coriander, instant oats, salt, and cumin into a blender and process until coarsely chopped.

Roll the mixture into small balls and lightly press down into disks.

Warm a frying pan on medium heat and add the coconut oil. Once melted, fry the falafel disks on each side for approximately 5 minutes, until golden brown.

Toast the pitas and open them up, then add your falafel, red onion, lettuce, and cabbage. Smother with sweet chili sauce and plain yogurt and devour.